Paper pieced lap quilt-island Batik
Island Batik-Pieced to Perfection Blog Hop
Today is the first day of the latest blog hop hosted by Island Batik, to showcase their latest collections shipping to shops this month. You can visit the Island Batik Blog to view the full schedule, sneak peaks of the collections being presented, and find a shop near you who carries Island Batik fabric.
The challenge this month was to make a paper pieced or EPP lap quilt or larger using the fabric collection we received. You will find quilts created using commercial patterns and unique one of a kind designs in this blog hop.
The collection I received was Blushing Garden designed by Kathy Engle for Island Batik, 20 half yard cuts and two coordinating fabrics. Isn't it yummy. Blushing Garden makes me think of a tropical getaway with luscious sprays of floral. How I wish my Orchids were blooming.
Some of the products featured on this site were provided to me free of charge by Island Batik, Hobbs Batting, Aurifil , AccuQuilt, Deb Tucker Studio 180 Designs and Schmetz Needles.
Paper pieced design
Since I am not a fan of hand sewing my design is foundation paper piecing. Because I couldn't come up with floral design I liked, this design is an existing one I've been working on. If you are new to fpp or interested in learning, visit my YouTube challenge where I shared how to's from my last quilt along.
Blushing Garden really made my design take on a form of its own. And, coordinating Aurifil Thread 50wt and Schmetz Needles are a staple in my sewing room. My personal opinion, Schmetz Quilting Chrome Needles are so nice for paper piecing, they penetrate the paper better which makes pulling papers easier. Aurifil has a wide range of colors and weights available and did you know they also have a thread for longarm quilters?
For this design I only used 3 sku's and I wish I'd had the time to make a larger quilt. If you follow me you know I have sold a house, rented a house and purchased a house, all in a 2 1/2 month time frame. That is a lot of packing and unpacking and cleaning. Most of my sewing room is in a storage unit and I can't find anything, lol. Including a nut for the carriage of my longarm that was just brought to the new house and finally setup.
None the less, I hope you enjoy the design and it inspires you to create something of your own with Blushing Garden. Come back to see what I make with the remainder of the collection. Oh, visit Elita at Busy Needle Quilting who is also sharing her finish today.
It is not quilted now, but there is a plan. It will begin with Hobbs Heirloom® Premium 100% Wool.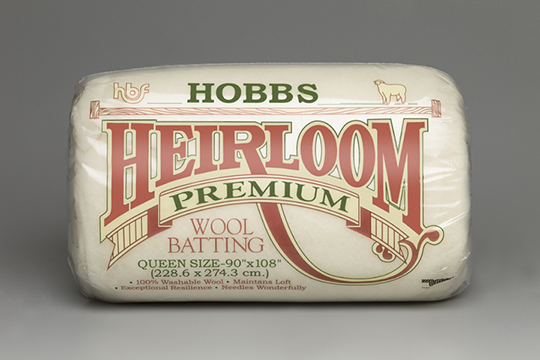 Aren't the colors yummy? The shade and green backdrop really show just how rich this fabric is.
a Rafflecopter giveaway